Welcome to Crate Gang!
We are more than just a record pool and remix service. We are a community. First and foremost, as a member, we are going to provide you with the best edits with an easy to use platform. We have over a dozen editors who have provided over 11,000 combined audio and video edits for use by professional DJs around the world. Our month issues are coming soon so, stay tuned!
Crate Gang Mobile Masters Collection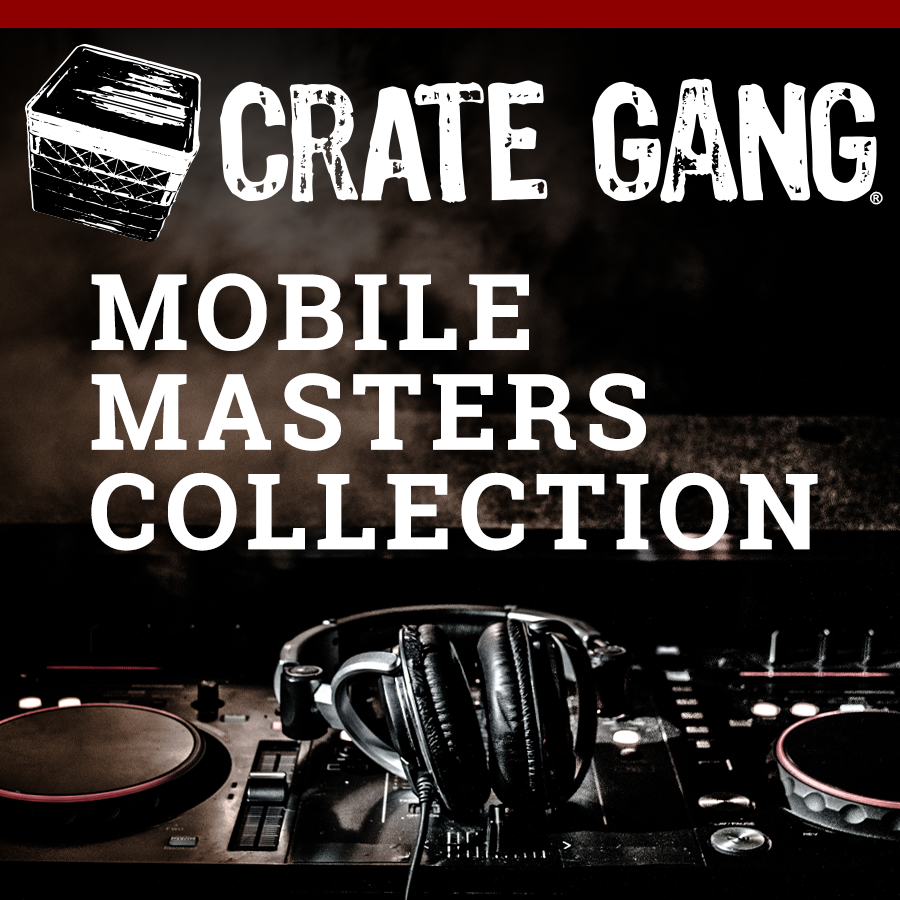 This collection consists of exclusive Crate Gang edits of some of the most popular songs any Party DJ would need! Log in to see the track list and to download FREE as part of your membership! Don't have a membership? Sign up today!
Become a contributing editor!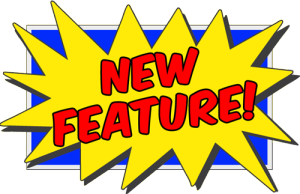 Have you ever wanted to showcase some of your own edits? Well, it's now an option for all Crate Gang members! Under "My Account" and then "My Account Info", there is a button on the bottom of that page that allows you to become a contributing editor.
New Issues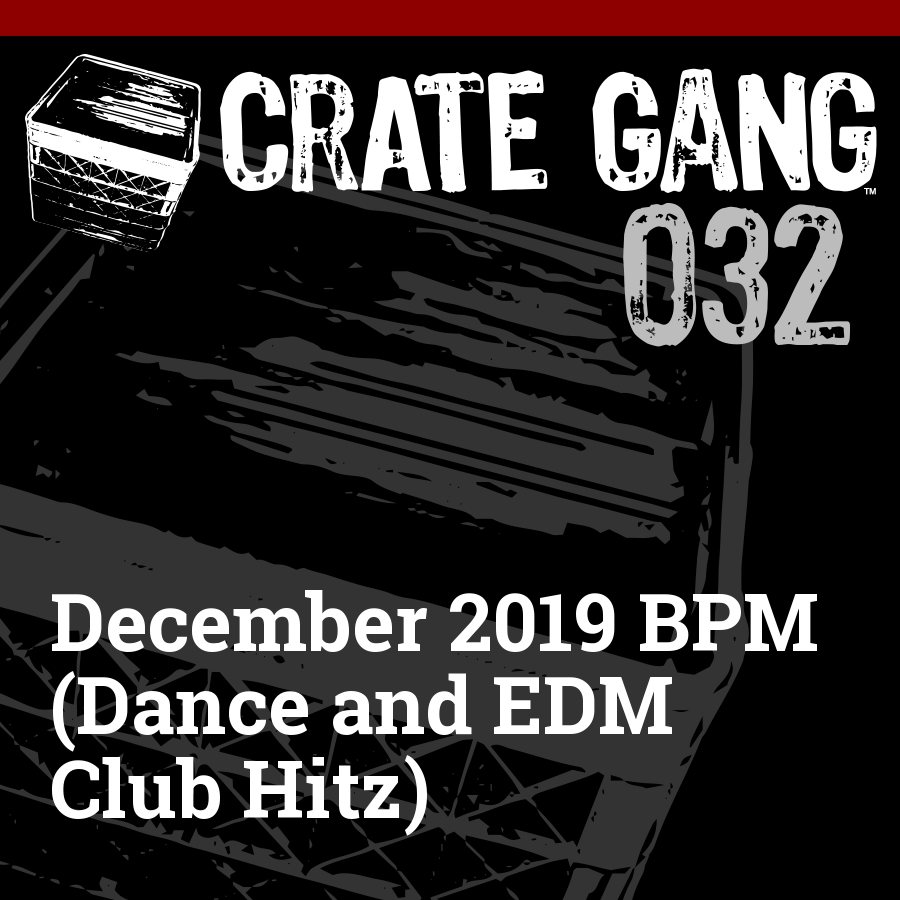 Many of you have said that you don't want to dig through the site for new releases, well, each month, we are going to come out with an issue with new current edits! Watch for the December 2019 Issue under "Compilations" on the menu bar.
Mixtape Sharing!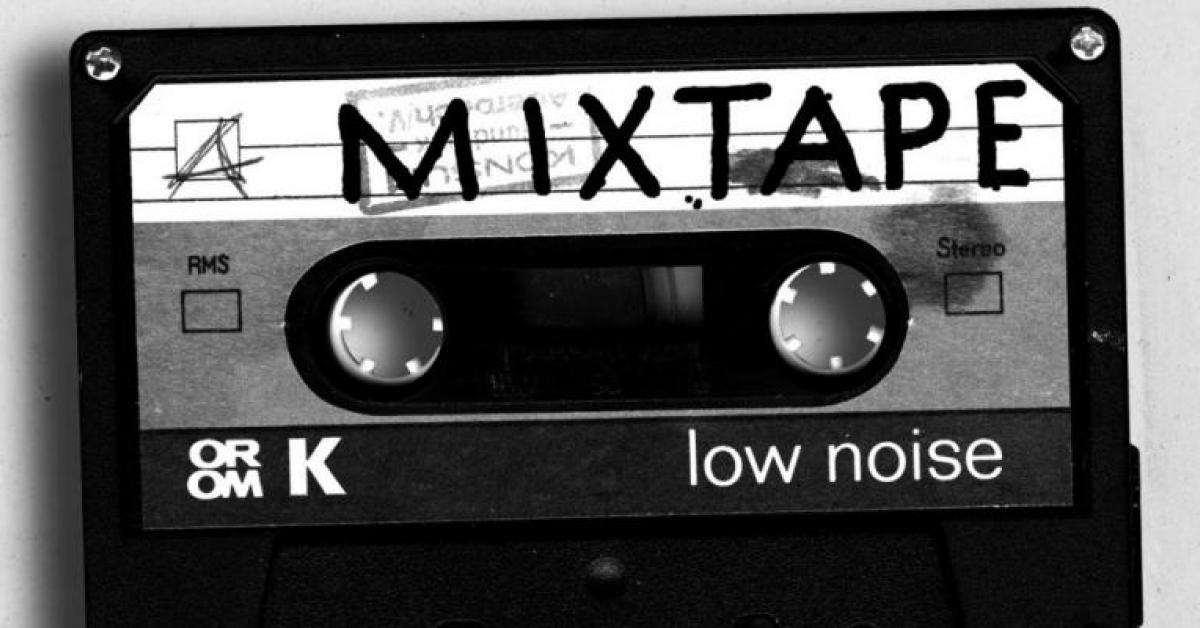 Want to feature your own mixtape?
By going to your profile, there is a section which allows you to upload your mixtapes to the Crate Gang site for all of its members to download. You must fill in your profile information in order to see the upload option though.
Want to check out other Crate Gang members mixtapes?
In the menu bar, select Mixtapes. That is where you will find everything that has been uploaded. Enjoy everyone and remember, we are a DJ community dedicated to HELPING other DJ's. We do not judge and we don't slam others. We help DJ's grow. We are a family.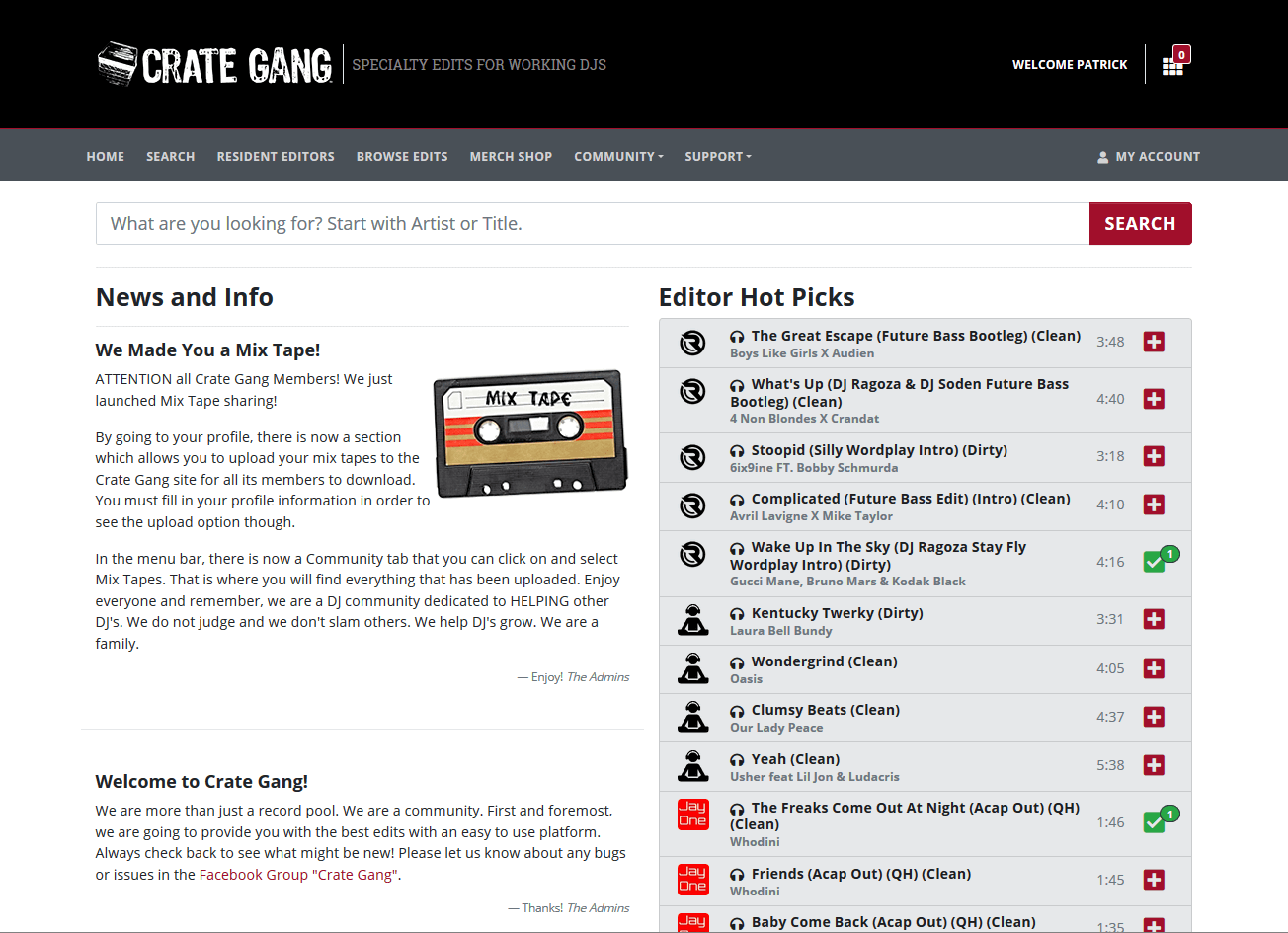 Home
News, Hot Picks, Popular Edits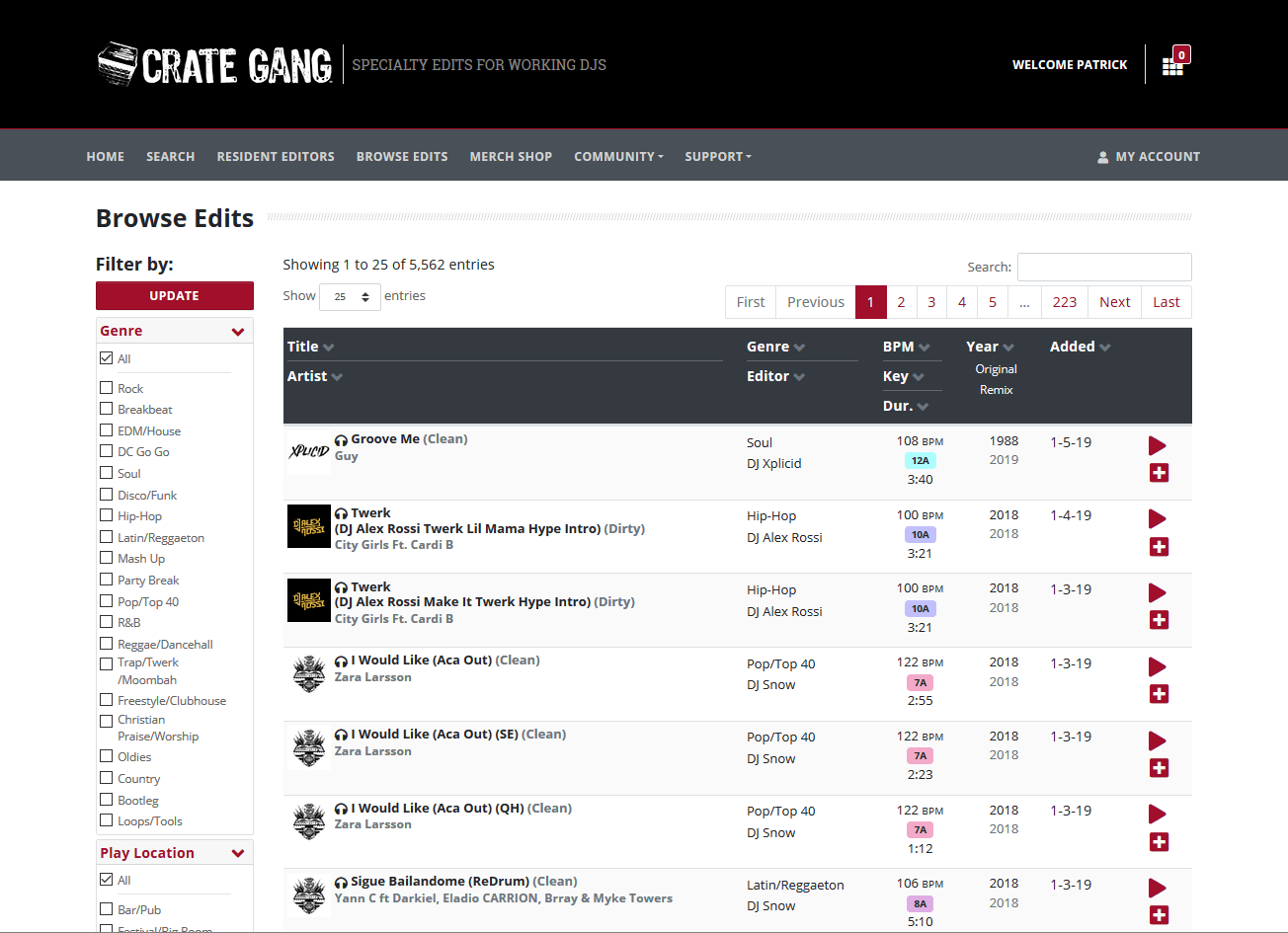 Browse
Search by Genre, Artist, Play Location, Editor, and More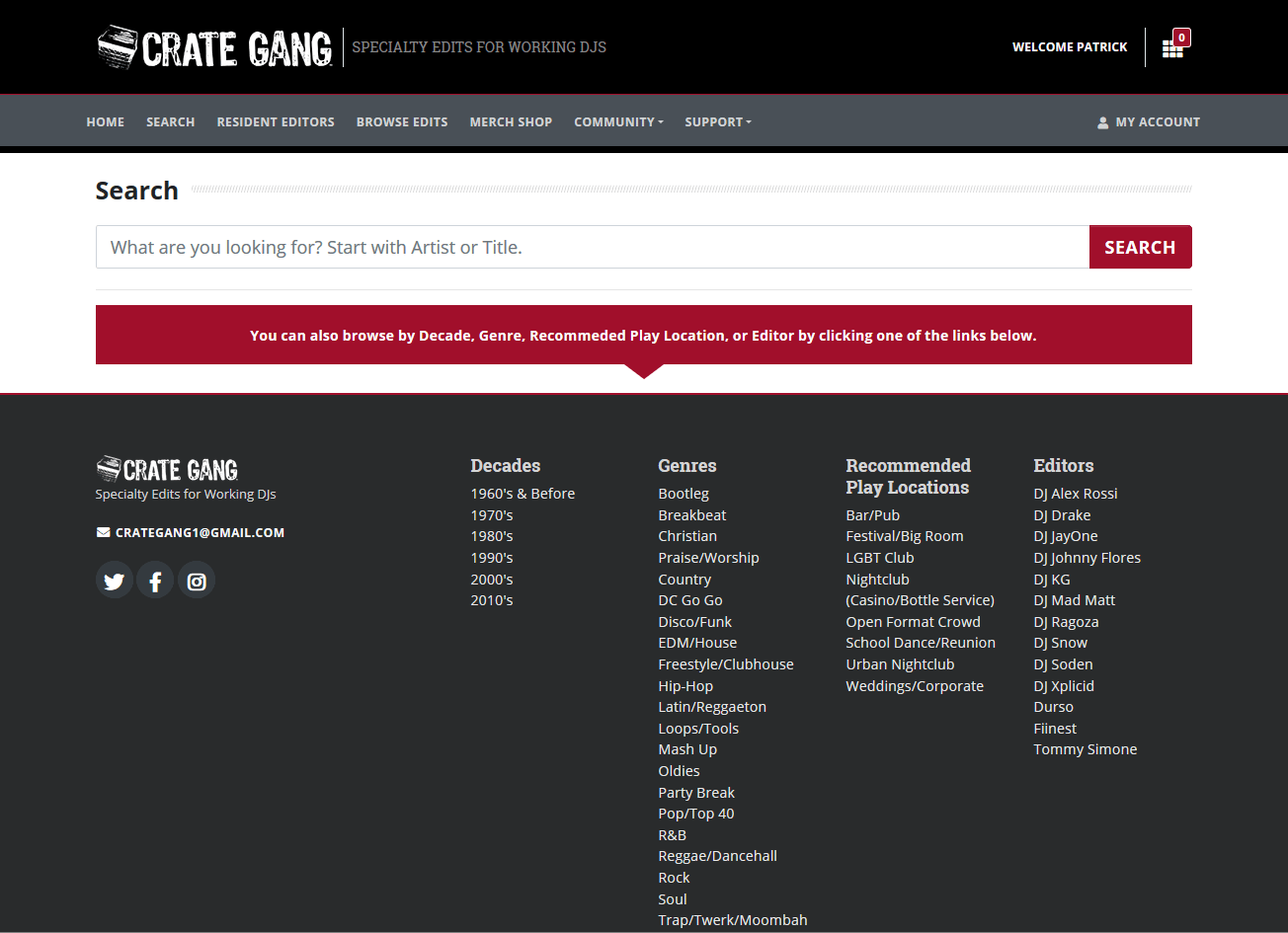 Search
Search Edits by Title and Artist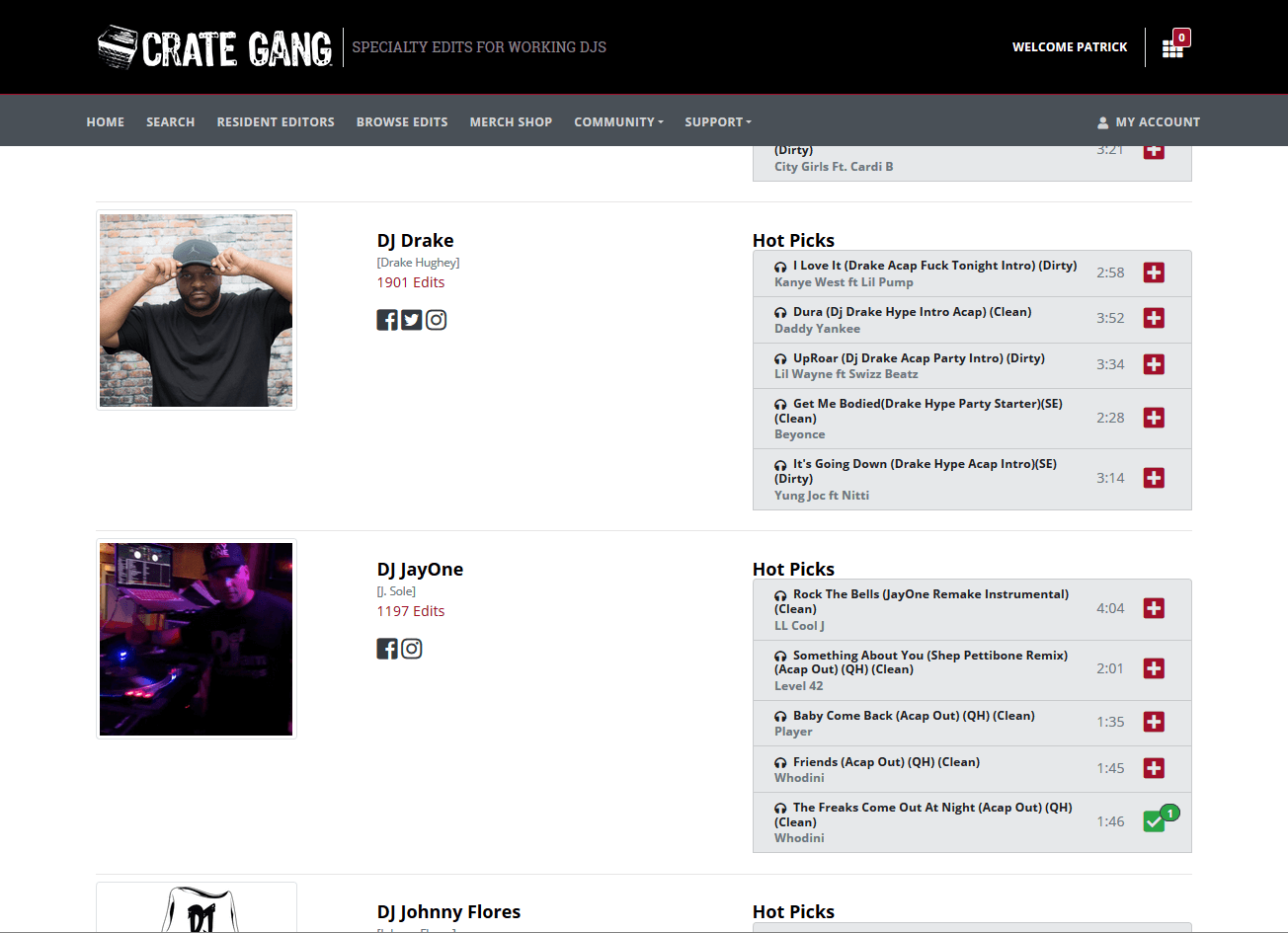 Resident Editors
Check Out And Connect With All Our Editors
Opening Mixes
Looking for something to get the party started early on in the night? We've got you covered with a couple of hot, two hour Opening Mixes by our own DJ Ragoza.

Download these mixes now compliments of Crate Gang.
2 Hour Hip Hop & R&B Opener (Clean)

DJ Ragoza

2 Hour Top 40 Remix Opener Mix

DJ Ragoza
---
Resident Editors
---
DJ Diddles
[Jason Martin]
Resident Video Editor
DJ Drake
[Drake Hughey]
Resident Audio Editor
DJ JEFF92
[Jeff Taripe]
Resident Audio & Video Editor
DJ Johnny Flores
[Johnny Flores]
Resident Audio Editor
DJ Mad Matt
[Matt Orton]
Resident Audio Editor
DJ Marty
[Marty Wood]
Resident Audio Editor
DJ Snow
[Dale Snow]
Resident Audio Editor
DJ Soden
[Mike Soden]
Resident Audio Editor
ROWSHAY
Resident Audio Editor
VDJ JD
[Josh Duerksen]
Resident Audio & Video Editor
---
Contributing Editors
---
Chase Morgan
[Chase Morgan]
Contributing Audio Editor
DJ Alex Rossi
[Alex Rossi]
Contributing Audio Editor
DJ Allan
Contributing Audio Editor
DJ Fiinest
Contributing Audio Editor
DJ Jaks
[Joseph Sales]
Contributing Audio Editor
DJ JayOne
[J. Sole]
Contributing Audio Editor
DJ Josh Erie
[Josh Bennett]
Contributing Audio & Video Editor
DJ KG
Contributing Audio Editor
DJ Mhark
Contributing Audio Editor
DJ Noslivv
[Ryan Wilson]
Contributing Audio Editor
DJ Ragoza
[Brandon Ragoza]
Contributing Audio Editor
DJ Xplicid
[Randy Johnson]
Contributing Audio Editor
Durso
Contributing Audio Editor
Tommy Simone
[Tommy Simone]
Contributing Audio Editor
Wingman
Contributing Audio Editor